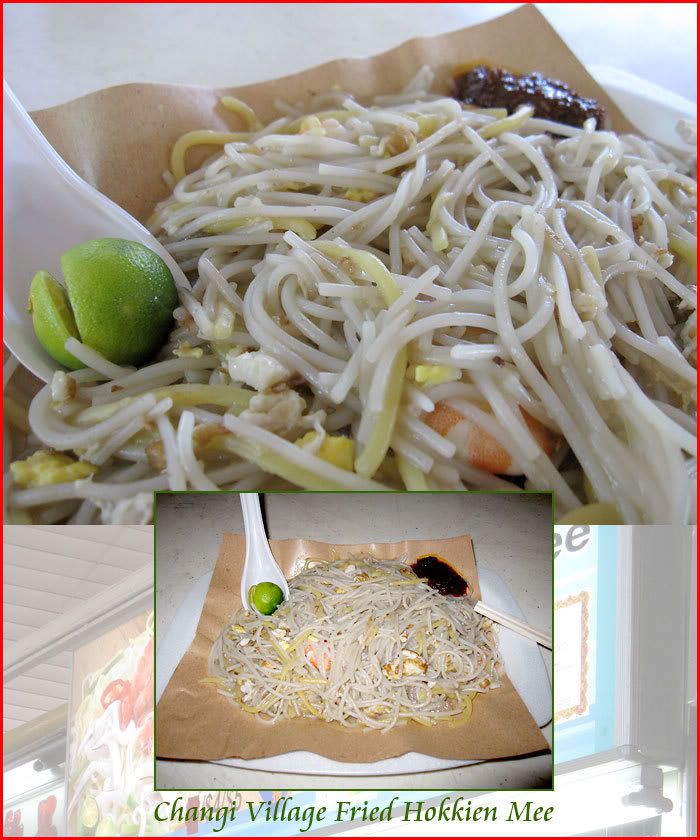 Changi Village Food Center


Fried Hokkien Mee (福建面} is another favourite among Singaporeans.
To put it simply, it is actually yellow noodles fried together with thick or thin bee hoon.
Notice some stall uses thick mee hoon while some cook with thin mee hoon.
Each their own unique style.

While looking for food to filled our growling stomache
We stumble upon this new stall selling Hokkien Mee.
Located at the last section of the food center near the washing area.
Stall is simple no fuss renovation ... you don't even see a "name"
But there were some many newspaper cuttings and certificate to decorated the stall front with.
Enough evidence to show it can dish up delicious noodles.

Being quite a fan of Hokkien mee, we gave it a try.
Promptly we were served with a plate of Hokkien mee, some sambal at a corner and a lime.
Noodles gave off this familiar aroma ... drooling at it again.
Simon love to mix the sambal with the noodles ...
The texture of the noodles is just right ... springy and not too soggy.
The sambal here is very tasty and not overly spicy too.

Wouldn't say it is one of the best but it's definitely a nice choice if you don't want to eat nasi lemak.