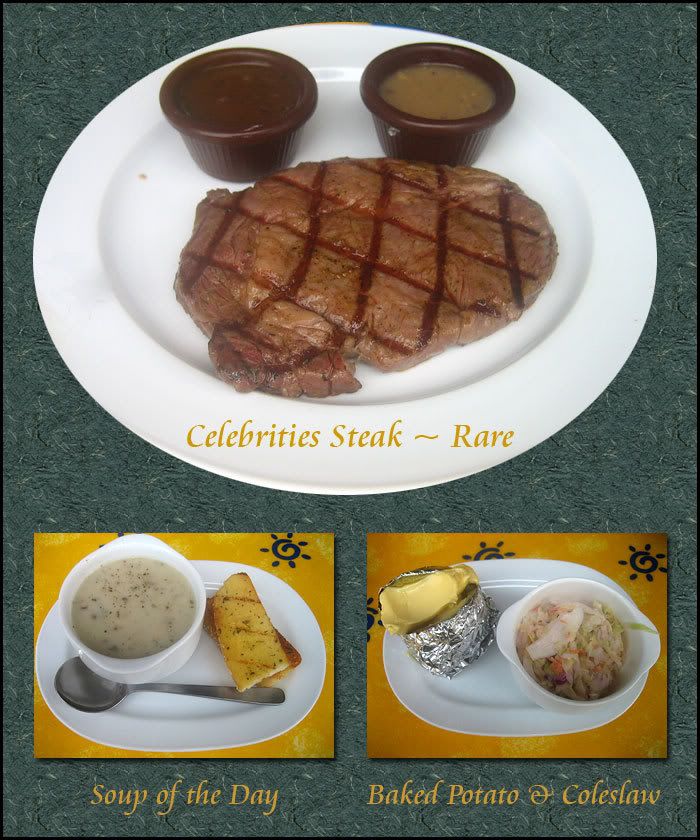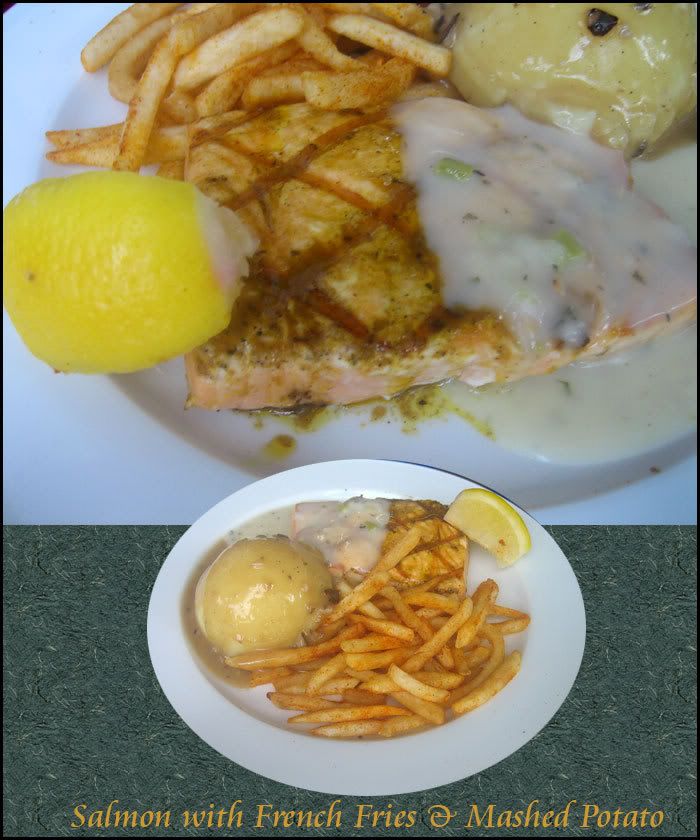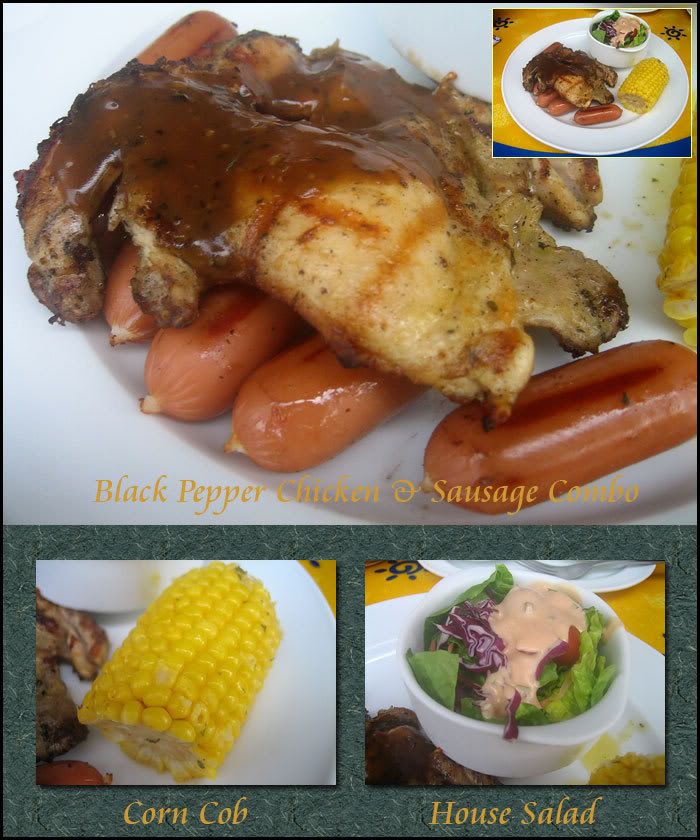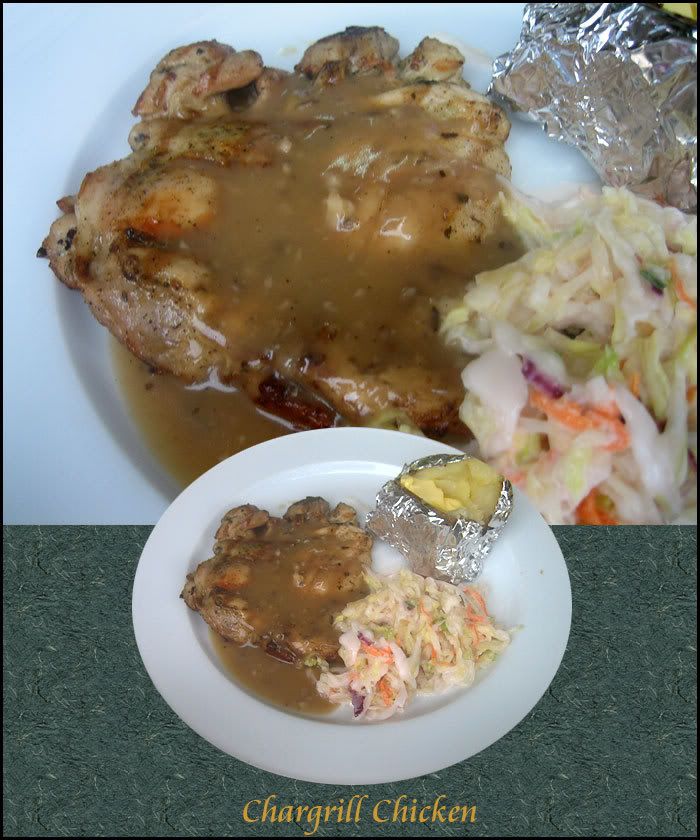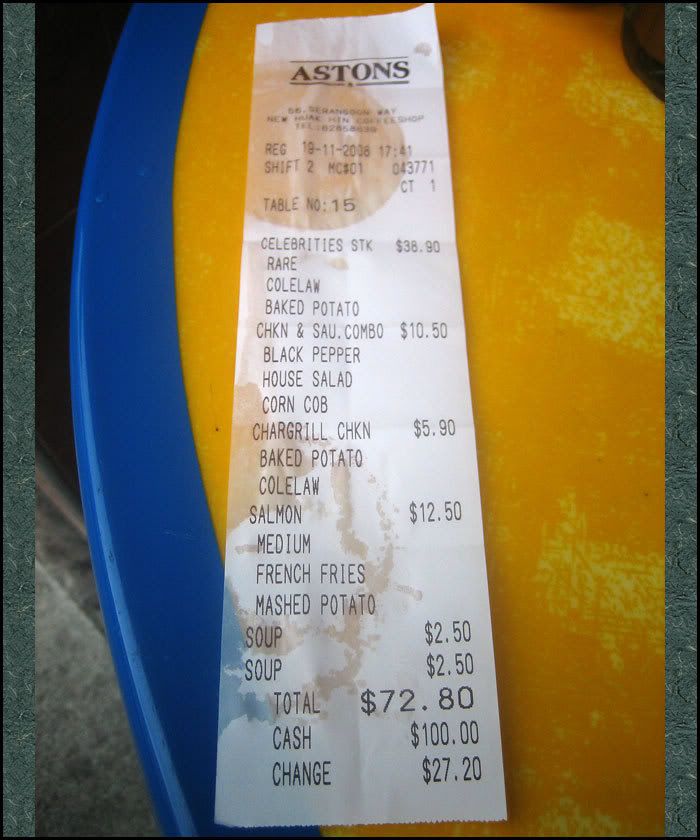 ASTON EXPRESS
[Operates under License of ASTONS F&B]
56 Serangoon Garden Way
(New Huat Hin CoffeeShop)

Tel: 6285 8839

Operating Hours : 1100-2200hrs(Close on alternate Thursday)


http://astonsspecialties.blogspot.com/


On Raspiritz recommendation ... we paid this Astons Express in Serangoon Garden a visit.

Located in an old coffee shop in Serangoon Garden,
Astons Express is a franchise of Astons Specialties which is famous for its mouthwatering steaks.
As its name suggests, "express" ... I was expecting swift and fast service.
We did have a very fast ordering service ... so fast the lady who was taking our orders was getting impatient.
We had a good 5 mins digesting the menu located right besides the ordering counter before proceeding forward to place order.
Her service was really bad.
She got impatient when we were confused with the side dishes inclusive in the set menu.
There were no others in the queue besides the four of us ...
When I wanted my salmon fully cooked ... she insist I must have it cook to a medium.
Lousy service aside ... here's the food review ...

I must agreed that their pricing is reasonable ... with a set meal priced at $5.90, comes with 2 free side dishes of your choice too.
I had their black pepper chicken & sausage combo, topped with a savory layer of black pepper sauce.
The presentation was not too bad ... was disappointed with the meat though.
I find it a bit too hard and dry. The house salad was good and I love the corn ... full of buttery goodness.

Simon always go for the steak when comes to Western food.
He had the Celebrities Steak cook to a rare.
He finds it slightly overcooked ... I don't see any red juice oozing out as he cut up the meat.
Something which I will usually see when he eats his steak.

We didn't take too long to "finish" dinner ...
Most of the plates were left half finished.


We did finished the side dishes like salad, corn on the cob and mashed potatoes.

A disappointing experience at this outlet.
Will give other outlets a try but definitely not this one at Serangoon Garden Way.