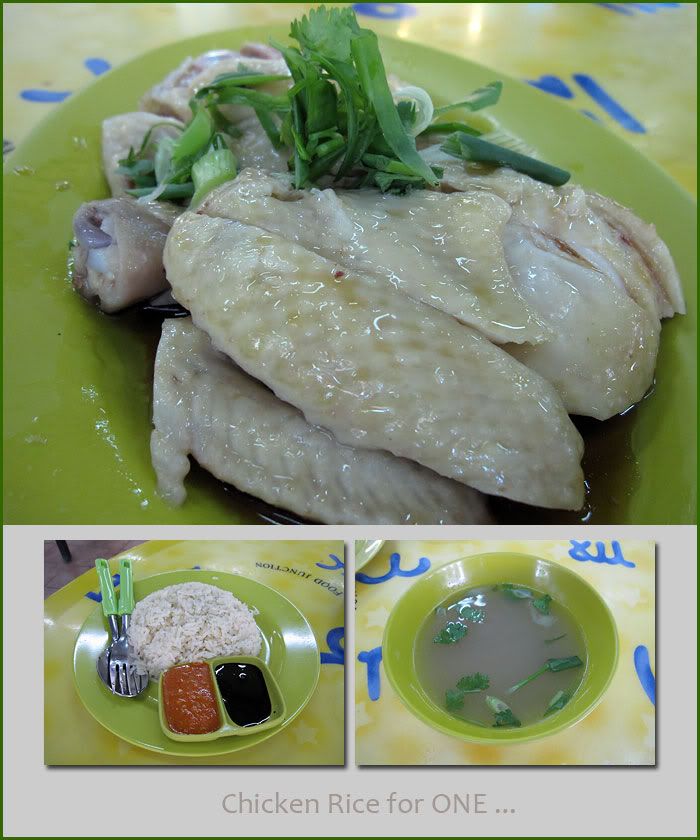 Bugis Street Chuen Chuen Chicken Rice
白沙浮津津芽菜鸡
183 Upper Thomson Road
Thomson Long House


Upper Thomson area has several good chicken rice restaurants.

Chuen Chuen chicken rice is but one of the many good eating Hainanese Chicken Rice along Upper Thomson Road.
Previously located in Jalan Besar Long House ...
they have shifted their business together with the famous "Long House" eatery when they relocated to Upper Thomson Road some years ago.
Located right at the center facing the main entrance, it's pretty hard to miss the store.
Many news paper cuttings and advertising pasted neatly decorating the store front.

The chicken they serve is really succulent and done just right.
Smooth and slippery to bite, not too soft and the bones comes off clean ...


Yes, not forgetting the must have ingredients when I eat chicken rice, grounded ginger.

We were having lunch over at Long House this afternoon ...
Ordered half a chicken, a serving of crunchy bean sprouts at $3 a plate, comes with a free serving of chicken soup ...
We had a wonderful lunch leaving the plates clean of chicken meat n rice.



Do give their crystal chichen feet in thai sauce a try.
I can only say it's sweet sour and crunchy !

I won't say Chuen Chuen Chicken Rice is the best but it's definitely worth the dollar kinda food.