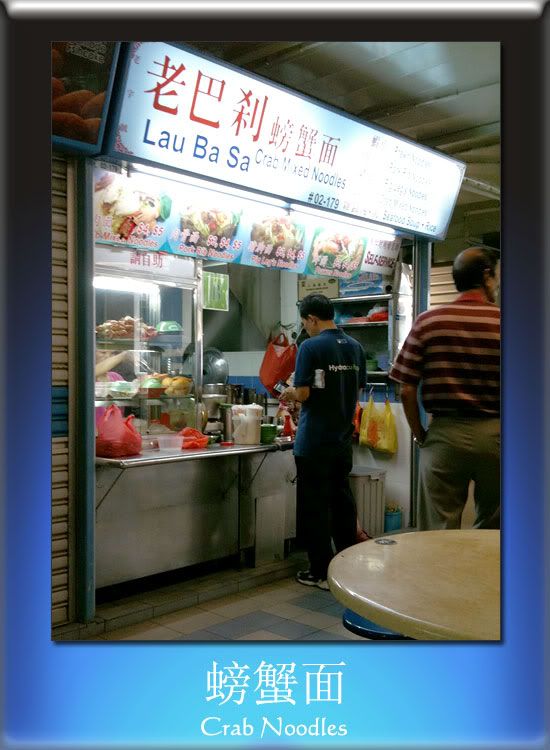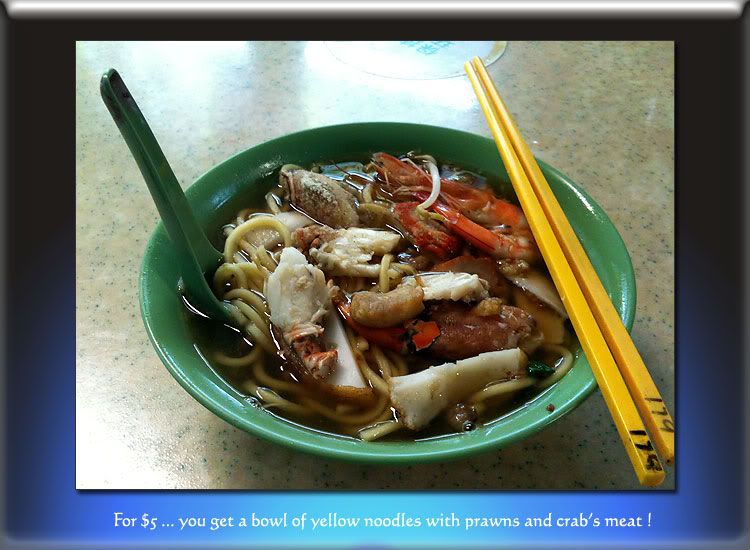 LAU BA SA CRAB MIXED NOODLES
Blk 335 Smith Street #02-179
Chinatown Complex Market
Singapore 050335


Walk pass this stall several times, the word "CRAB" noodles really attracted my attention.
Always curious to find out what it is all about ...
Finally ... I got the chance last week when we were there for lunch again.
This time ... I zoom right to the stall refused to be distracted by the many yummy food in the center.
Walk right up to aunty and ordered a BIG bowl of crab noodles.



There is smaller serving of $4 or bigger ones at $5.
I ordered the bigger serving as always thinking I get more crab meat. lol !
The stall sells prawns noodles too with the usual fares of pork ribs and pig's tail noodles.

It didn't take too long for the noodles to be served.
A nice bowl of yellow noodles, soup version.
I never like dry ones when eating yellow noodles.

Quickly took a sip of the soup ...
Hmmm ... did not match my expectation of "crab" noodle.
It tasted more like prawn's noodle soup with extra sweetness from the crabs.
Not a fancy dish with the usual garnishing used in prawn noodles.

Looks ... nothing fancy or to brag about.
Very normal with some extra de-shell crab's claw n meat strew on the top.
The soup is something which will just bring you back to pay them a second visit.

It's either you like it or you will never visit it again.