A Card A Restaurant !

With this new "feature" ... let's hope more kakis will be able to share with us here in HLF
more good eating places which you have patronize.

A simple card with a few more words from you ...
Telling us if the food is good or bad, the service , the ambiance of the restaurant ...
or simply anything you wish to share with us about the restaurant.

Let me start the ball rolling with this one ...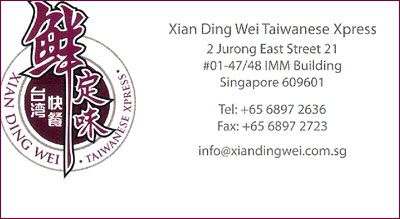 Food ... so so only.
Some selection of so call Taiwanese fares like 卤肉饭, noodles etc ...
Ordered the set lunch served in a wooden tray with rice, clay-pot chicken, some prickles and ikan billis with peanuts and a soup of the day.
I don't know why they served ikan billis with peanuts ... makes me feel like eating nasi lemak ... lol !
The clay-pot chicken ... I probably won't order again but the soup 连藕汤was good.

The pearl tea was a little disappointing.
Served in a plastic cup, like those we buy off the counter selling pearl tea.
Worst was the tea didn't taste like milk tea at all ... the simplest version of all pearl tea flavours.
No tea taste !
Luckily the pearl was chewy and honey sweet.

The service staff are mostly "aunties" ...
But their infos regarding the menu were good and very friendly people.

Good food at affordable price ... won't purposely make a trip for it though.
No harm giving it a try ... if you want some Taiwanese fares ... fast food style.