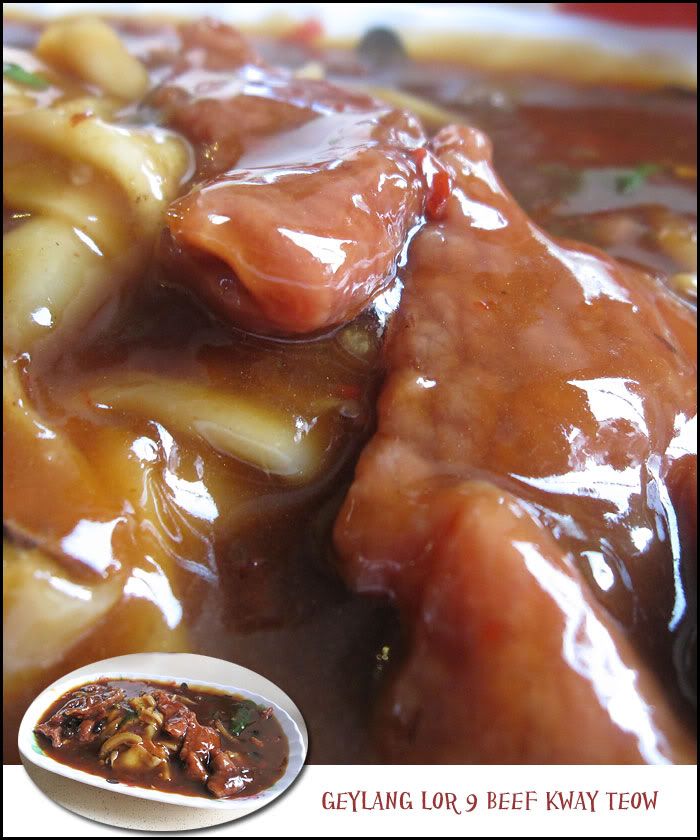 牛河大王
Beef Kway Teow
Geylang Lor 9


Business Hours : 4.30pm to 2.30am daily


I have heard so much about this FAMOUS Geylang Beef Kway Teow over the years ...
Finally got a chance to give this dish a try.

It is so common to see hawkers add the word 'Famous' on their signboard nowadays, I tend to take it with a pinch of salt.


But for this Famous Beef Kway Teow ... it is justified !
Though the signboard clearly stated "kway teow", it is actually beef "hor fun", in other words, flat rice noodles.

I ordered a $5 serving which is the smallest portion they have for this dish.
Besides hor fun, they do served many other dishes just like any other tze char stall.
The menu comes in full colored photos and stated price for easy reference.

Didn't take very long for the hor fun to be served.
First look and I fell in love with it, look very different from the usual hor fun.
A distinctive 'wok-hei' flavors filled the air as it's being served.
The mouthwatering gravy has a fiery essence of black bean paste, black pepper and chilli which complements the hor fun perfectly.
Main ingredients beef, well-marinated and exceptionally tender !



This hor fun is so fantastic that I finished the whole plate and had a second serving to share with Simon.
So to all beef lovers out there, if you have yet to try out this Famous BEEF HOR FUN ...
Hurry down to Geylang Lorong 9 Beef Kway Teow today.
It will not disappoint you.