Hie everyone.
Yesterday, go to my favorite spot with a few of my friends.
First thing reach look at the water. Water look good.
Set Up Rod.
When setting up my rod, got one uncle the rod kena TODAK then the fish bring the rod to the water.
Everyone stop what they doing then find ways to help him. The fish swim quite far. That the uncle no choice go swim to get his rod.
We all look. Uncle manage to retrieve his rod back with the fish. A good size Todak.
I seriously respect the UNCLE. SALUTE LAR. Super brave.
Uncle pack up then go home.
Then its our turn. My friend get a Todak. Smaller than the uncle one.
Then he saw a school of Halfbeak. He tell me. I quickly go set up my float.
We like super crazy that time.
Spot the fish, cast. Spot again cast.
Total up I manage to pull in 4 Halbeak and lost 2.
My friend manage to pull in 6 Halfbeak and lost 6.
Then feeding frenzy start to slow down.
Rain start to fall and we ran to the nearest shelter.
Rain Stop go back to the same spot. I cast my rod.
Waited like 5 mins. Then got bite. I thought small fish.
Waited for a few minutes then set my hook.
Then saw huge splash. I like surprised then fight the fish for awhile.
Then manage to bring the fish up. Its an okay size Catfish

Then continue fishing. I bring two rods.
One for Big Game. One for small fish.
Then about one hour later. My small rod then went down. I like super shock.
The fish go eat my small rod's hook. The hook somemore super small and the poundage only 15 pound.
I quickly go garb my rod and fight the fish till like 5 mins.
Then the Fish jump "SNAP!!!" Leader line snap.
I clearly saw the fish. Its a Kim Bak Lor!! :O
I ask one bangla guy who saw the fish how long is it??
He say like one arm length.
I like super sad man.
Then my fishing spirit BOOST!
All my rod and my friend rod all cast and the same area.
Then waited for like 2 hours. End up with another small catfish.
That end the day.
I seriously will go that very same spot again for REVENGE! LOL
Here are the pictures of my catch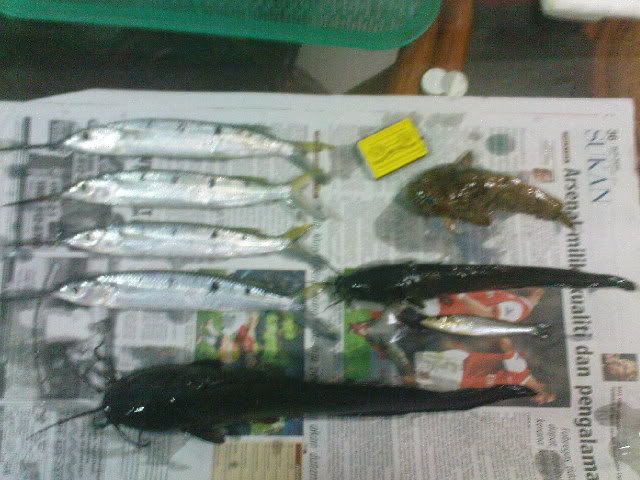 Another View