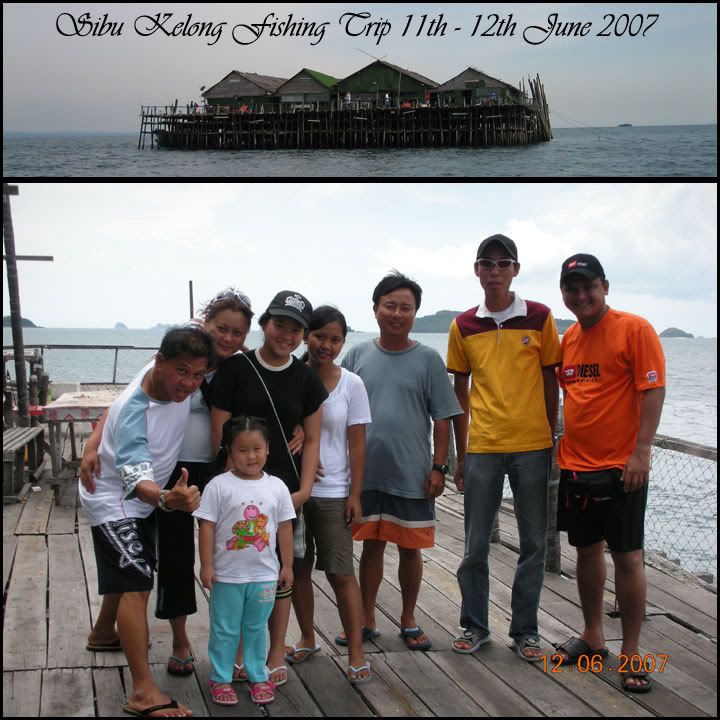 Alright ... due to our Sedili Trip being cancelled due to strong winds ...
Let me make good use of the time I have on hand now when we suppose to be fishing in Sedili.
Allow me to bring back some sweet memories of past trips and CRs which were "lost" during the big migration ~






Sibu ~ AH Ngan Kelong with Desleyhan Family & Friends



Wonderful first Kelong experience for me and Simon.
Thanks to Desley and wifey for making all the necessary arrangements.
It was a fantastic and memorable trip which we enjoyed.

A very fun Kelong experience for us.
Food was never a problem ... fresh fright from the sea.
I remembered the morning when we were to return home ...
there were these boatman coming onto the Kelong to sell us their freshly caught squids and fishes.
All at very good affordable prices.

Simon had a fun time challenging with the uncle, a helper at the Kelong.
He was "selfish" ... refused to teach us how to catch the squid there.
Simon was smart enough to observed by the side and self learn.
The rig, the length of the rig and the actions to entice the squid to bite. lol !
It was a fun and interesting night challenging the old hands at squidding.

The meals at the Kelong was something I remembered fondly.
The cook was never slow to dish up meals after meals.
We spend much of the time eating than fishing.
The breakfast of fried rice n boiled eggs was so delicious I still drools thinking of it.
The self made salted fish pieces in the fried rice was so yummy.

Fishing at the Kelong was so relaxing ...
Clean beds to rest and relax when you are tired.
We were alloted fresh water for showering too.
One person one blue bucket ...
Something which I did not know.



We had a fun time bullying the small fishes.
Desley lost a big one when the fish dived right under the Kelong.
Line was cut off by the barnacles rich stilts.

I love every bit of this trip except for the transfer at the customs.
We got to drag along our bags and tackles just to get our passport chopped.
Lucky we were allowed to leave the ice boxes in the coach after some negotiation with the custom officer.

All in all ... a wonderful Kelong experience we will remember for a long long time.