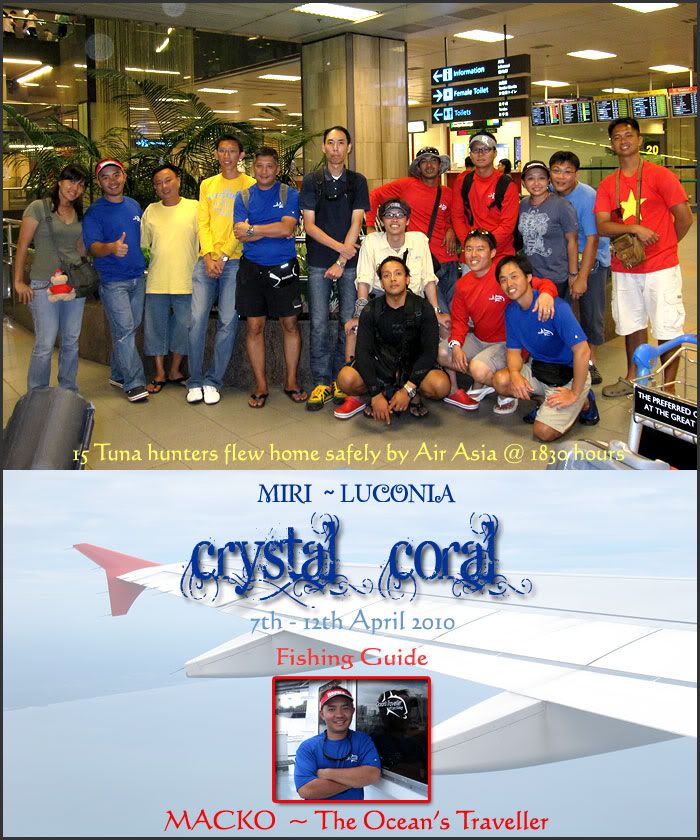 Standing from left : Lilian, Macko, Simon, Andy, Clement, Kevin, Keith, Eric, Joanne, Andrew, Adam
Center to front : Chris, Terrence, Melvin and Taufiq
15 Happy Faces



Body confirm returned to Singapore ... soul like still wondering in Luconia leh .... ~



Before I start to write my grandmother story ... let me thank Macko for all the co-ordinations and logistic arrangements.


It was a fantastic trip, well organised with extremely fun kakis to be fishing with.



A wonderful 6 days with a pack of jokers, smokers, drinkers, funny guys and pretty aunties on Crystal Coral.





It's a trip which took us one year to plan.
Counting down till the day we took off with Air Asia and returning with 15 happy faces with plenty of actions, photos and sweet memories.




.. the story will continues


... following with more pics and actions !




...... I start doing now lor ... wait lah ... mai chui lah ... I need time ... many many photos you know !




Share with you all the group photo we took at T1 when we landed home yesterday ~ hehehehe