Hi guys
This posting is to teach ppl on the basics of the bomb rig and how effective it would be used to target patins/rohus/pacus in either commercial payponds or in the wild if u have spotted one
The Bomb Rig
it consist of a spring , two beads, barrel swiviels and hooks and the optional foam beads.
so it would look roughly like (pls pardon my poor drawing =P)
Ok to the impt point
How to use this rig?
i normally use this rig with a baitrunner as it will be more easier for me to set the hook when a fish bites but a normal reel can do the job well to
ok so for this rig u are using kng as sorta like a chum. Ok so u see ppl casting big chunks of bait that is attach to this rig sorta like a ball yea?
so it is actually kng mix with water to make it into a mixture .. not too wet not too dry its abit hard to explain but may be clear in this vid
so basically this chum is for u to cast out and attract the patins and fishes.
the chum serves as a so called the main course of the meal they are gonna have so as it impacts the water the patins will start to feed on the kng on the rig attracting more patins and other fishes to come
.
The bottom 2 hooks would then serve as the bait and when the fish finishes the chum they will all compete for the last bait which is on the hooks hence letting u hook on them.This also lets a lot of rod tip twitching too when that happens
Now when u cast out the bait u basically need to set the drag till it give a good bend on ur rod but not strong enough that it will take ur rod away .
the preparation of kng...
For me kng is juz fish feed that sinks , to create ur own
its like theres BASE and there addictives
the base is large quantity of fish food that can be purchase in aquariums small sinking ones will do the job well but the most precise ones are those that comes in plastic packs that has patin pics on it and is iin a powdery form normally has different flavours
then u can add addictives , stuffs like coconut milk and pandan essence is widely used by anglers that uses this technique for me i personally put crush up biscuits, pandan essence and fish feed AND the normally precise kng that can be purchase either in tackle shops in changi or fishing paradise tackle shop other tackle shops i dun noe cos i nver visited them.
so with ur kng u have to add the bait that is going to be moulded onto ur hook i would suggest bread that is cut into cubes this is wad i prepared for the 3hr session more then enough with one loaf of big size bread
first u have to cut the bread pieces into strips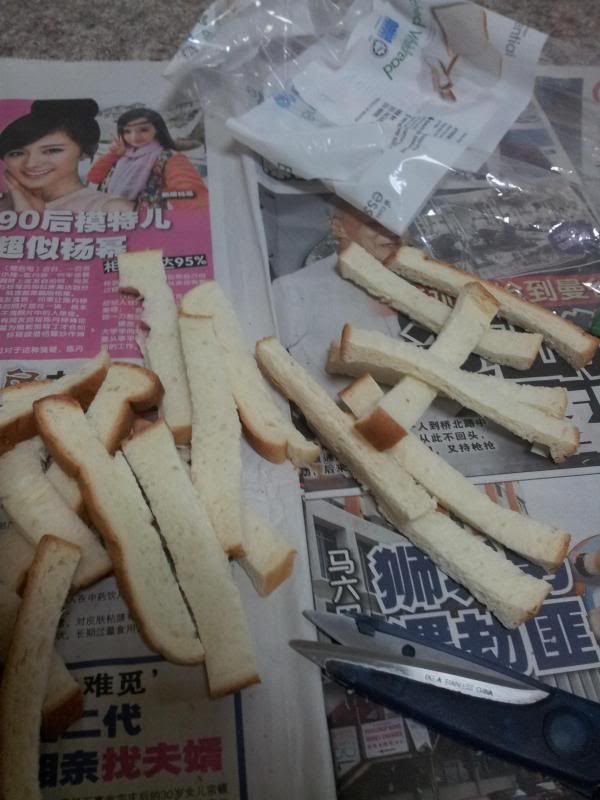 then into cubes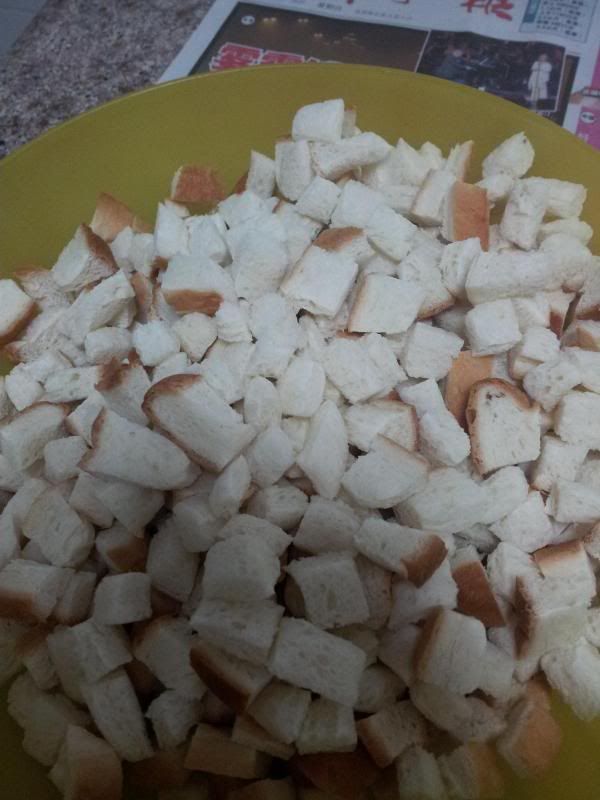 tada
then u mix it in with the kng prepared .
which looked like this for mine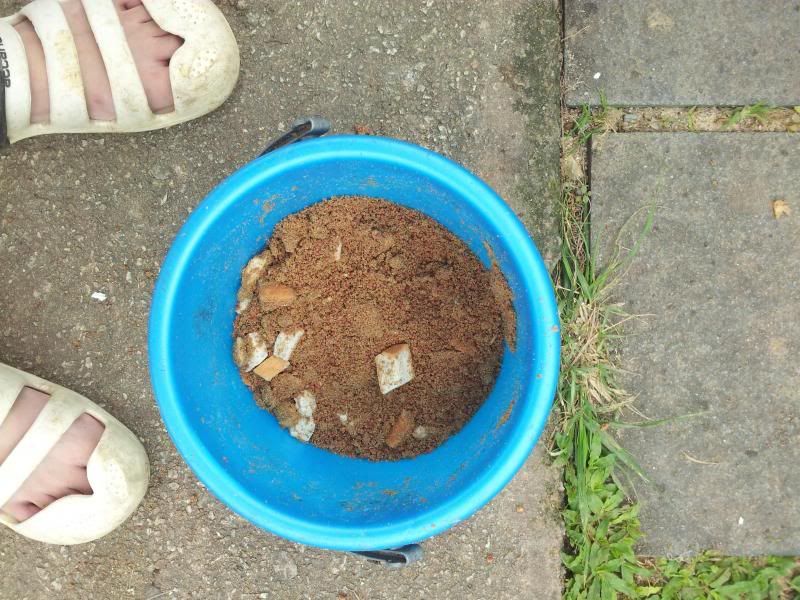 u then grab a handful of kng then squeeze it and mould it onto the spring first as shown at the top video
the only difference is that the video on top shows the float bomb rig used into thailand without any hook baits this works there as there is plenty of mekong that would fight for the kng as they are fighting they accidently ingest the hooks hence giving a hook up however in sg i do try the float rig be4 but it doesnt seem to work for me at fishing paradise hence i normally use the sinking bomb a bomb rig also juz no float only.
once ur have perfectly made a ball then u mould the bread onto ur hook
As the rig pic that i showed there is a foam bead on one of the hook this will let ur bread float as the rig submerge into the water .I believe this will increase the chance of hookup as the fishes is able to see the bait and hence fight for it i would only put the foam bead on one of the hook and the other sinks ^^
So the end product should look like this
Alrighty thats all for now do reply this thread if u have any enquiries on the bomb rig i will gladly help u to understand more abt the usage of this rig
the videos of the takes can be view at my CR thread
viewtopic.php?f=23&t=4806&start=15
thks and tight line my angling kakis ^^